Accompany Colonel Edington on a walking tour around the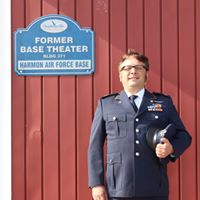 former Harmon Air Force Base.  This enlightening tour will give you a glimpse of a time when Harmon AFB was home to the 4081st Strategic Wing. Colonel Edington is joined along the tour by some of his friends who once visited or worked on the base between 1941 and 1966.  Visit historic landmarks and hear many stories that will be new to those who have taken the previous Colonel's bus tour.
The tour takes about 75 minutes. Tickets available at Debbie's Video, online (May 30) or pay at the site.