Boil-Up at Harmon Seaside Park
July 13, 2019 @ 6:00 PM

-

8:00 PM

$25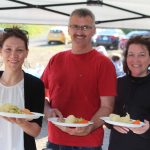 It is common for people in Newfoundland and Labrador to say they are going for a "boil up". This generally consist of lighting a fire on a beach or in the bush to boil the kettle for a cup of tea or perhaps cook a lunch or dinner on the beach with some fresh caught trout or Newfie steak (bologna). The main idea is just to sit back and enjoy the outdoors.
We've upped the anti with a twist on an old tradition. Our Boil-Up, features a Jiggs Dinner cooked over an open fire, with a scrumptious steamed berry pudding and caramel sauce. No where else can you dine in such a setting; you have a majestic view of the mountains, the serene inspiration of a pond and the expansive stretches of green grass. Where are you? Overlooking a fairway at Harmon Seaside Links.
Tickets: $25 until July 11, and $30 on July 12 & 13 . Tickets are limited.
Tickets:  Online or Debbie's Video (709) 643-5277 (after May 30)
Online: By May 30 Eventbrite