Harmon Hustle Road Race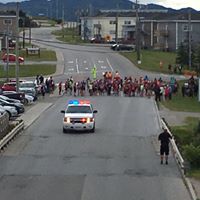 The Harmon Hustle is a road race to be held in Stephenville, Newfoundland on June 30th, 2019. It is named in honor of Ernest Harmon Airforce Base, an American Base which played such a major part in the development of the town of Stephenville. Runners will tour both the town and the site of the base as they complete their runs. Runners will have a choice of 5km, 10km, or 15km course with a mass start at 9 am at the YMCA, 383 Massachusetts Drive. All runners will have 2.5 hrs to complete their chosen course. Runners will proceed along a flat course down Main Street, left on West Street, across the new bridge to Massachusetts Drive. From there, the courses will proceed through various areas of the Harmon Air Force Base. Water and Gatorade will be available at various points along the route. There will be a finisher medal for all participants as you cross the finish line as well as prizes for the top male and female in each distance. This year we are proud to announce a youth female and male catagory for the 5 Km run. These awards will be presented at 10:30 am outside the YMCA (weather permitting inside the YMCA if not) Online registration is available at ZONE 4 starting at April 26th, 2019. Early bird registration ends on May 26th, 2019 at 11:59. Online registration will end June 26th, 2019 at 11:59 p.m. In person registration will be accepted at Debbie's Video, 76A Main Street, Stephenville until June 26th, 2019. Race Kit pick up will be Friday June 28th, 2018 from 7 p.m. – 9 p.m. and Saturday June 29th 1 p.m. to 4 p.m. at the YMCA, 383 Massachusetts Drive. NO RACE KIT PICK UP ON RACE DAY We would like to thank everyone for taking the time to visit our site and hope to see you all on race day.
Registration opens April 26, 2019 or register locally at Debbie's Video.
For more information visit  our website at the Harmon Hustle website or Facebook page.